¡No Vino, No Camino!
"Life is short, and we do not have much time to gladden the hearts of those who journey with us. So, be swift to love, and make haste to be kind. And may the blessing of God who made you, who loves you, and who travels with you, be with you now and forever." - The Blessing our priest says over us at the end of every Eucharist, based on the words of Henri Frederic Amiel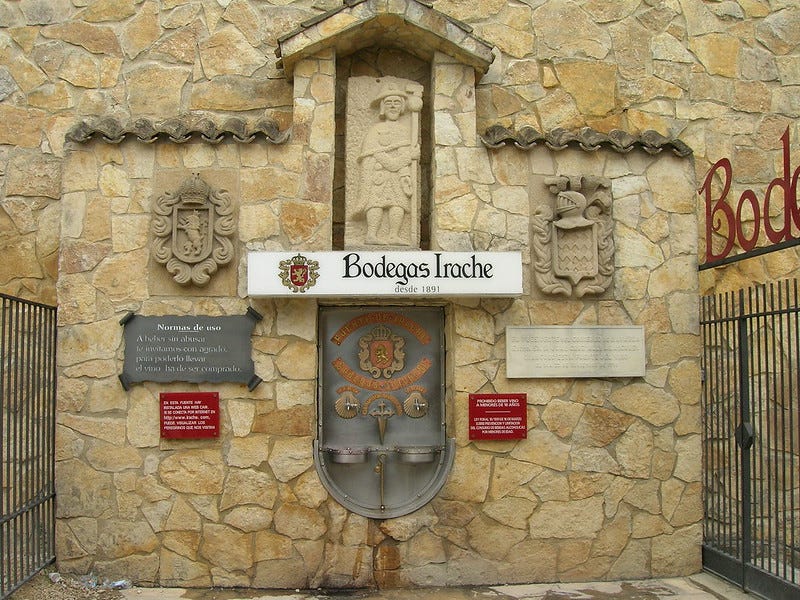 photo via
creative commons
(all following photos are my own)
On our fourth day of walking, pretty early on a Saturday morning we came across the Fuente de Irache: a wine fountain tended by a group of monks at a monastery. They own a vineyard and installed a fountain to give free wine tastings to the pilgrims. Above the fountain is a sign that reads: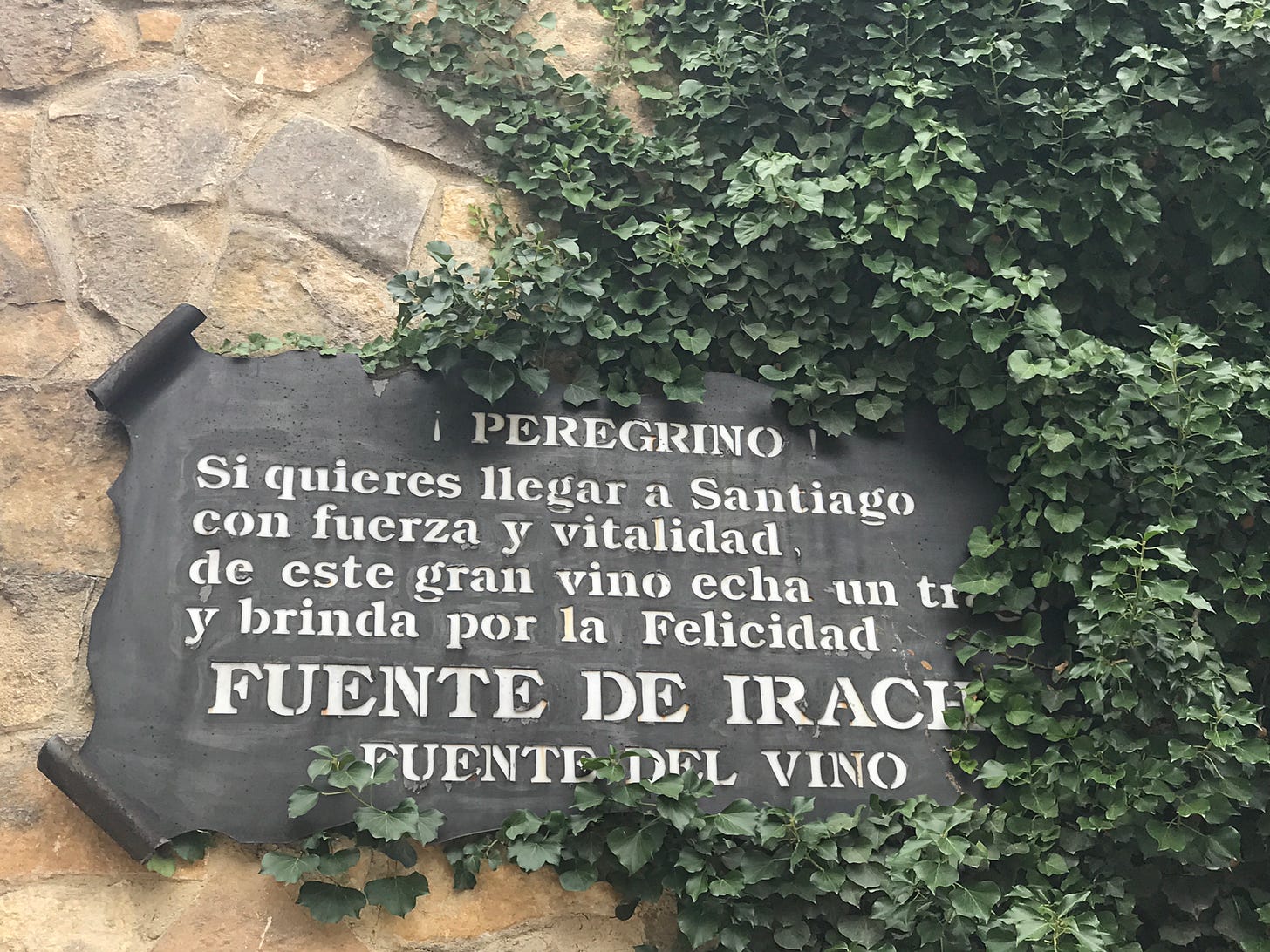 This loosely translates to:
"Pilgrim! If you want to arrive in Santiago with the strength and vitality of this great wine, take a drink and drink for happiness."
It was not the best wine I drank on the camino, but perhaps it didn't taste great because we were drinking it hours before lunch. 
As you walk on the trail, you pick up sing-song phrases that pilgrims say to each other. These are the liturgy of the camino. The folklore of the way. 
I first heard one of the early phrases in the famous parochial albergue in Grañon. At this traditional pilgrim hostel, everyone sleeps on the floor of a crowded bell tower and eats together at a hodgepodge of tables covered with blue and white gingham vinyl tablecloths. We sang a rap blessing before we ate our tuna salad, squash soup, and gobs of bread. 
As our hospiterlera (volunteer working at the hostel) came to see how everyone was doing, she looked at our empty wine glasses and exclaimed, " ¡No vino, no camino!" and promptly filled them to the brim with cheap vino tinto—Spanish red wine likely pressed from the grapes of fields we had walked through and around and beside each and every day.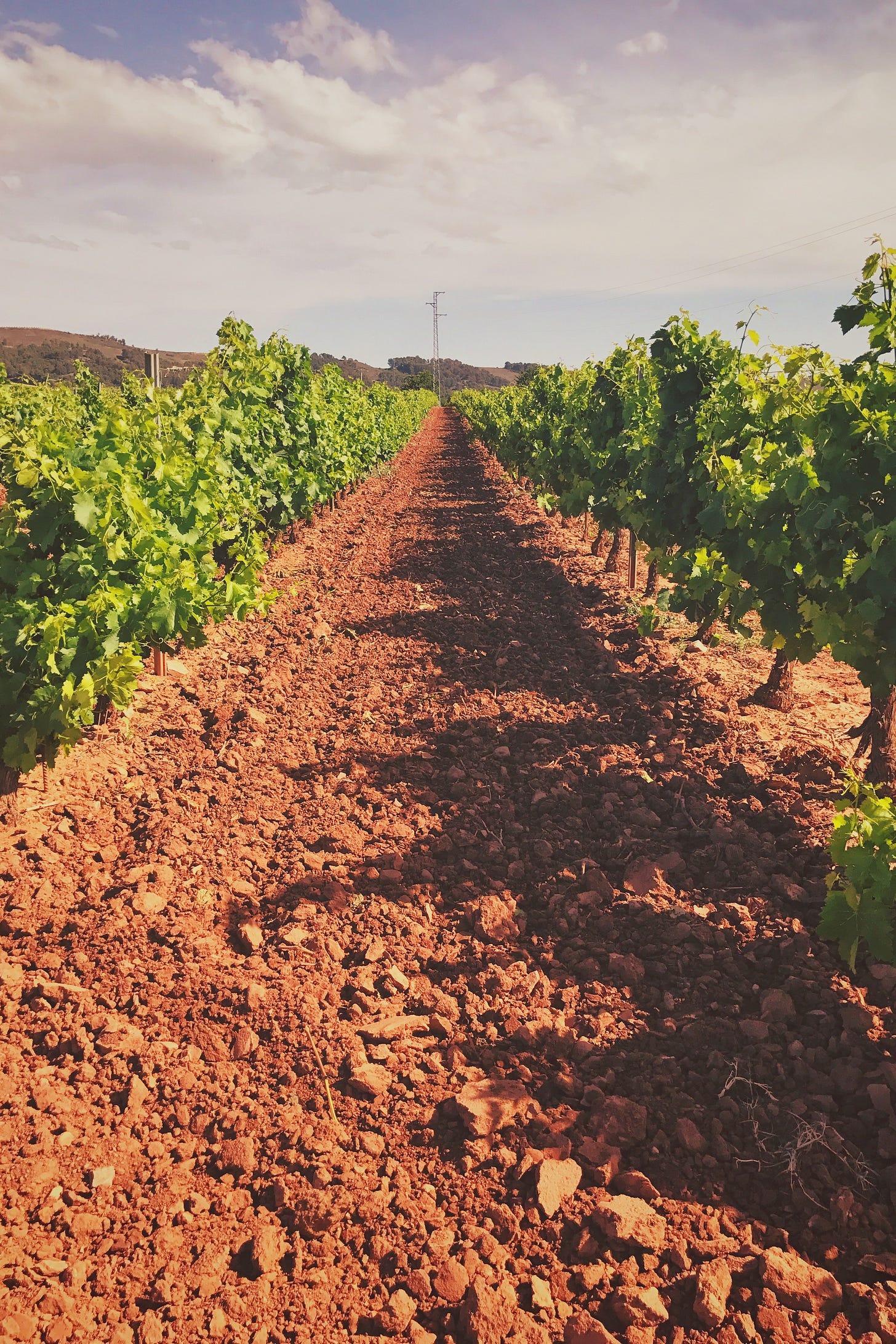 It became a common refrain along the way. ¡No vino, no camino! Should we have wine tonight?  ¡No vino, no camino! Do you want wine with that? ¡No vino, no camino! 
---
My mom and I got in two arguments during the whole camino. One was when she wanted me to help her off a bunk bed and I was too exhausted to get off my own top bunk to help her down. The other was the day after the wine fountain. Her cell phone had stopped working and we couldn't figure out how to fix it. I probably made a snarky comment about turning it off and on, which upset her and so began a breakdown in communication. I don't really remember the details, except that we were eating pizza in Los Arcos. The roof of my mouth, raw from eating hot pizza too quickly, added to my irritation. 
For the next several kilometers we walked in total silence. I took one of my favorite pictures of the whole trip of a man walking with his guitar during that painfully long stretch consisting entirely of gravel and lacking any shade. When we finally reached the next town, we had to hash out whatever was going on before we could get ice cream. The sun was scorching us. We both didn't respond well to each other that day and it was probably because it was our fifth day walking and we were utterly exhausted.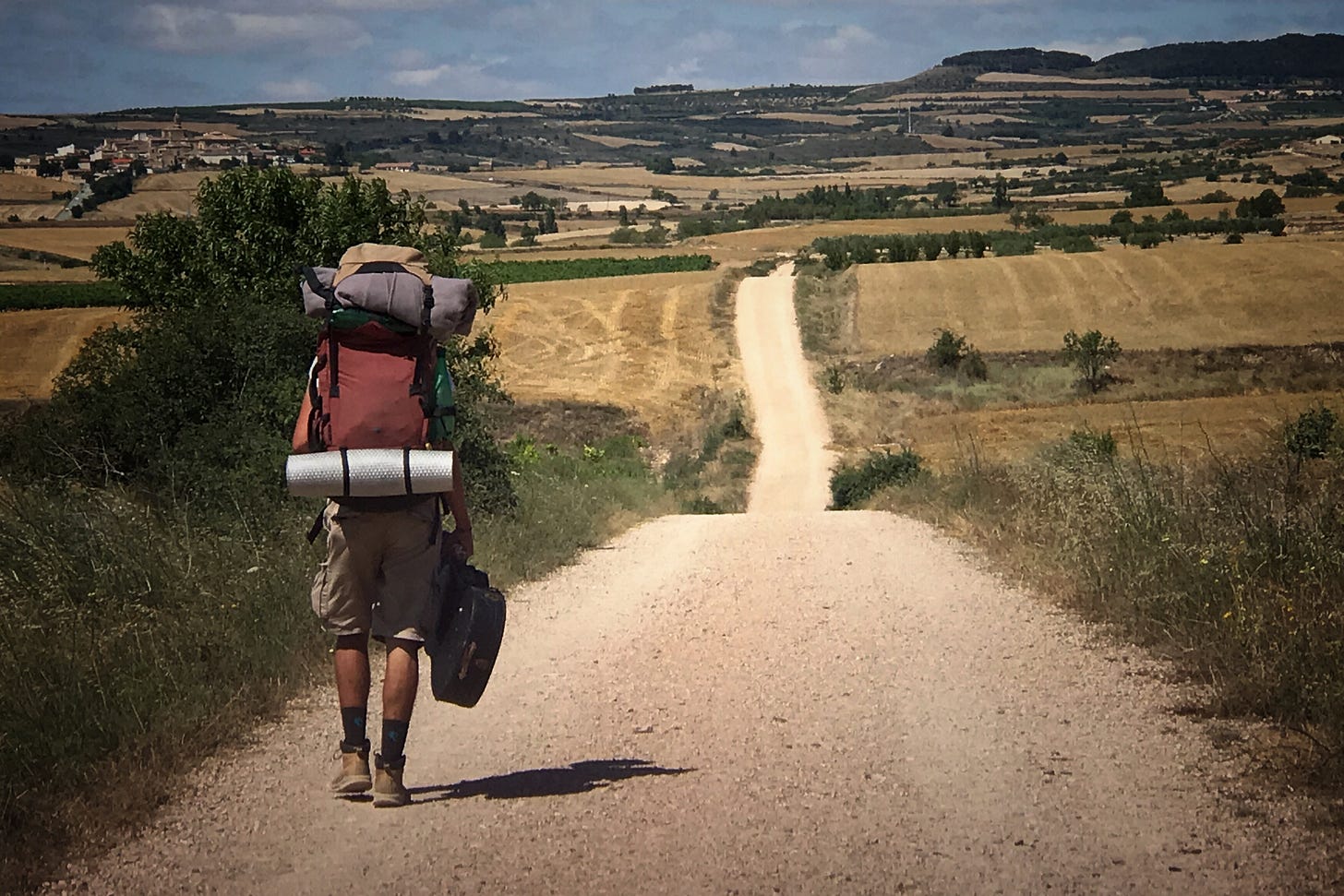 You don't always think clearly about your emotions and how other people are feeling when you are at your limits. We were both at our limit for temperature, at our physical capacity for exertion, and at our mental capacity to process information in an unknown language all day. We had decision fatigue from having to choose accommodations and acquire meals in places we had never been. Our feet were so sore and tired. She had sustained a major wrist injury on our first day that was progressively getting worse and worse. 
I wish I had been a better caretaker. I was very caught up in the goal of completing "my camino" that I wasn't as sensitive as I could have been to her needs. I was so excited to finally be doing the thing I had planned for years in my mind and months in my real life. I didn't consider I had my 56-year-old mother with me. I didn't take into account her lack of Spanish speaking skills and the physical challenge she was undertaking. Those first few days on our camino, I wish I had been kinder.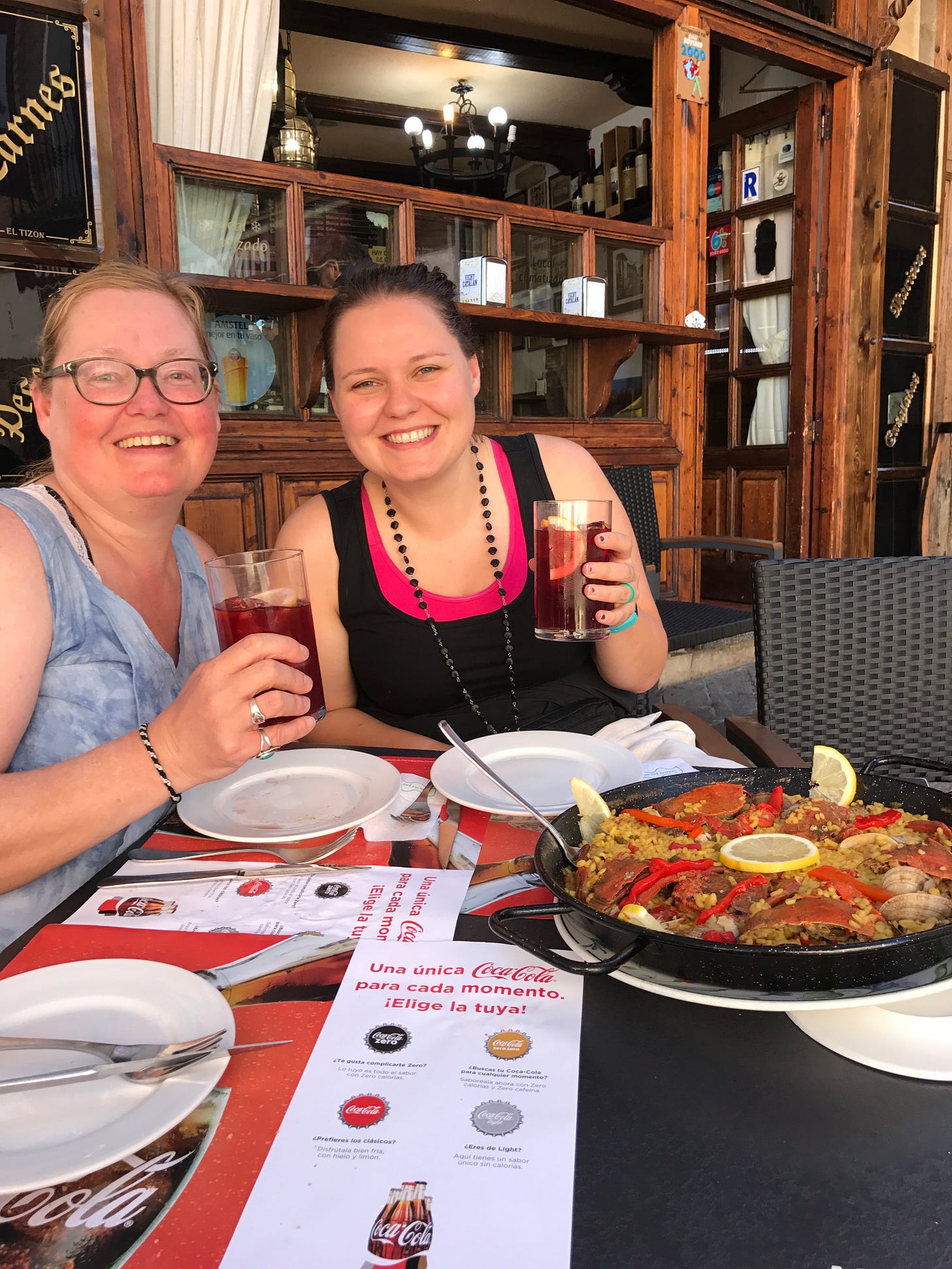 Sometimes you get so excited about where you are going on the journey that you forget that what really matters is who you are traveling with. She wasn't caught up in the camino, she was focused solely on spending time with me. She got it. She understood that the reason she was there was to be with her daughter. I didn't get it. I was there to prove I could walk across a country. I was there to prove I was strong enough. I was there to find God or peace or something. I forgot my own mother had given the time and money and energy to go on a crazy adventure with me. She had chosen me. There were plenty of things she could have been doing with her July, but she chose to spend those days with me. What a gift I didn't realize I was being offered.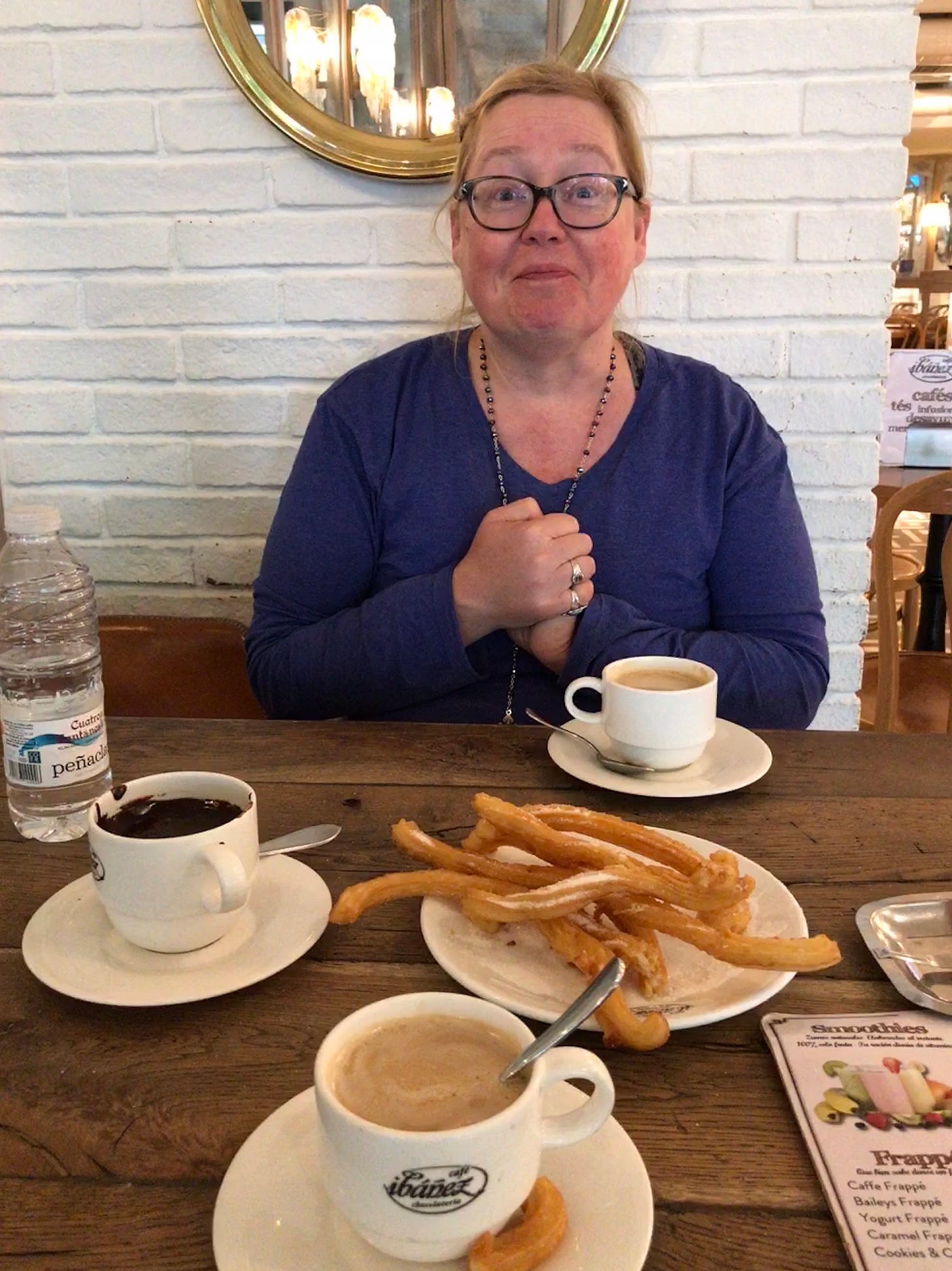 All those moments dipping our churros in chocolate and cracking open an ice cold Coca-Cola on the side of the path and sharing a wide pan of paella after a long day's walk. Those were the gifts. Those were the moments. Those were the real magic of el camino. That trip was the first time in years that we had been together, just the two of us, for an uninterrupted length of time. Our husbands were not there. My siblings weren't there, which is a big deal for a middle child. It was just the two of us and the wide open sky. Just the two of us squished onto the bottom bunk while we rested before dinner, because the top bunk is so far up there.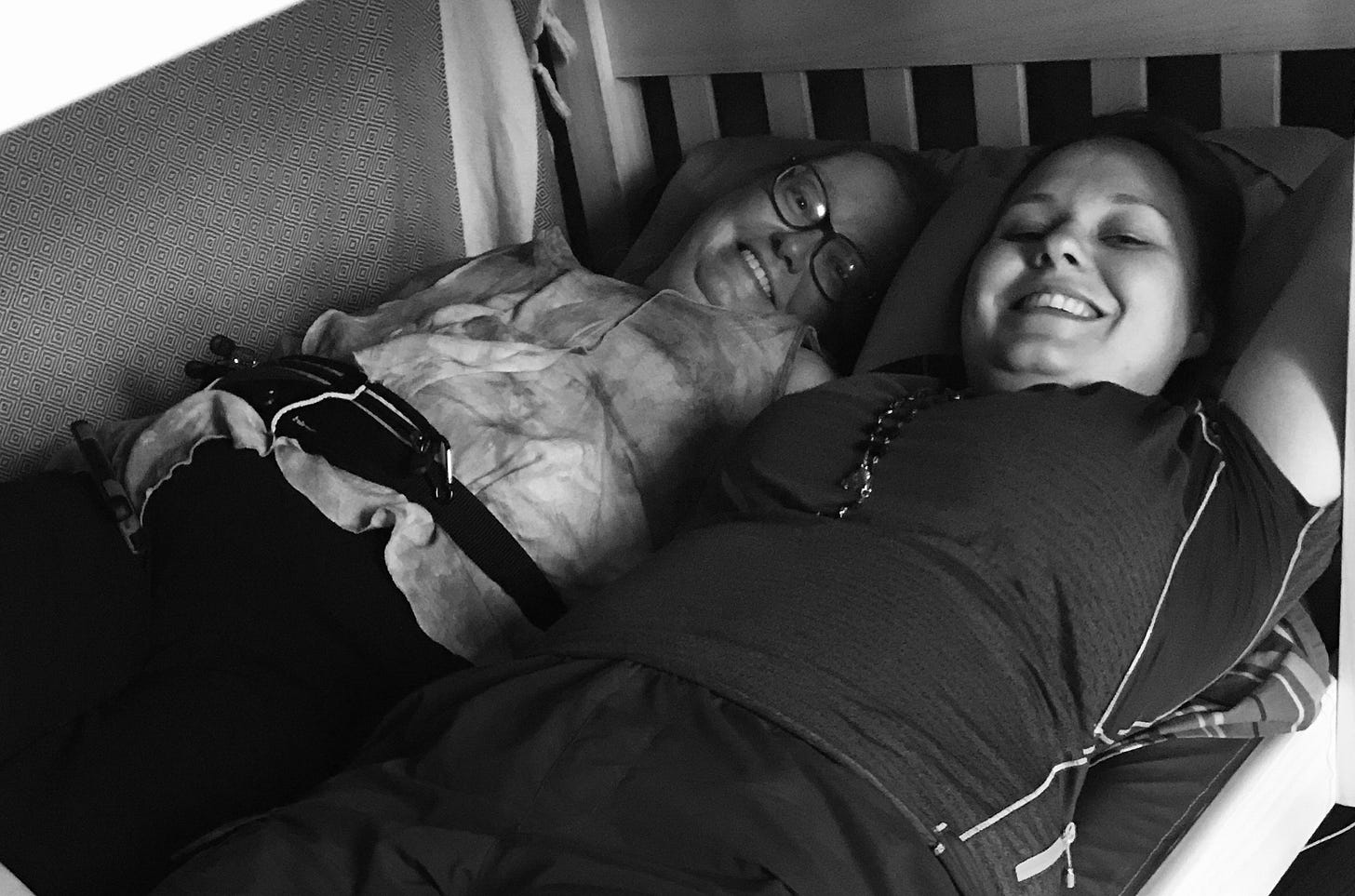 When you get too focused on the end goal, look side to side. Who is on your journey with you? Are you taking care of them? Are you letting them take care of you?
If you have reached your physical and mental capacity for compassion, consider slowing down. Are there some things you could take off of your responsibility plate? What can you let go of that would free up some energy and allow you to address the needs of yourself and others?
Consider pouring some vino tinto (literal or proverbial) to toast another beautiful day on this earth together.  ¡No vino, no camino! ¡Salud!