"When the Spirit lives within you, any place can become a sanctuary. You just have to listen. You just have to pay attention."

― Rachel Held Evans, Searching for Sunday: Loving, Leaving, and Finding the Church
The top bunk creaked under me as I reached for my Burt's Bees coconut foot crème. It was the last step of my afternoon ritual.
Arrive at albergue.
Shower.
Wash clothes.
Tend to feet.
My job that summer was to be fit to walk. Neglecting rest or not taking care of my feet would have made me unfit for that important job.
I traced my finger along the drastic tan line separating my feet from my calves. As I massaged the tropical lotion into my feet, I silently thanked them.
Thank you for carrying me. Thank you for your service. Thank you for being strong. Thank you for not getting blisters. Thank you, thank you, thank you. I couldn't do this without you.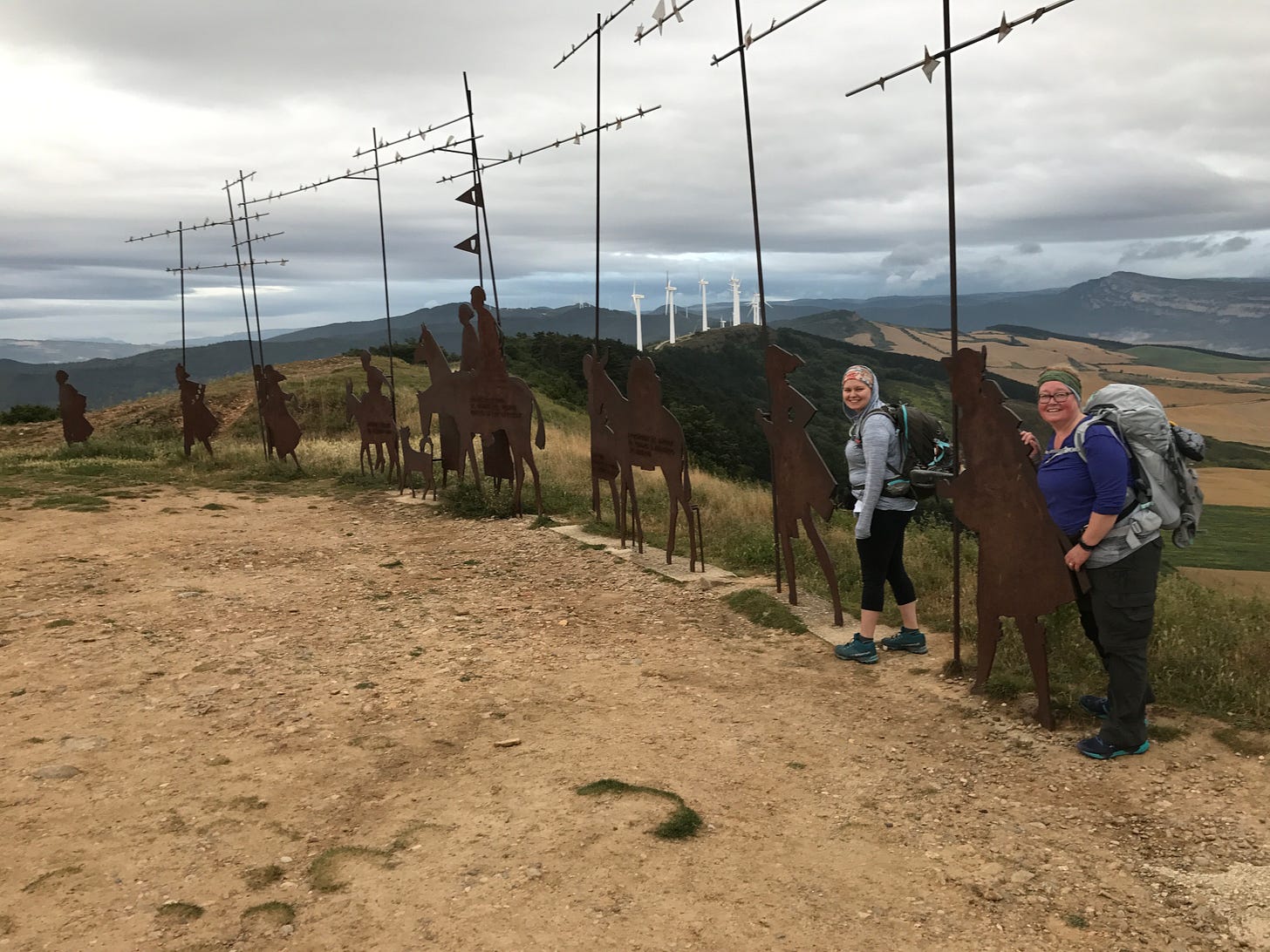 The second day of our camino was walking up to Alto del Perdon (the mountain of forgiveness—as this was traditionally the point where all your previous sins are forgiven—IN CASE YOU DIE ON YOUR CAMINO). It's a beautiful walk up to a gorgeous vista.
However, leaving Alto del Perdon is a true test in one's belief in God. It's a steep grade down a rocky dirt path, a sharp contrast to the charming ascent.
"Oh look! More wind turbines!"
"Ah, a lovely wheat field."
"Do you see the statues up on top of the mountain?"
The walk down is harsh and ugly. All you see around you are the edges of the mountain that have been carved out to facilitate your romp down its side.
The second day of walking is when you learn not to get too excited when you reach a summit, because the walk down may be a beast. Every step down compacts your knees into your tibias and fibulas. Your steps don't happen out in front of you, they happen below you. The descent relentlessly keeps coming. You realize today's downhill is a combination of two days of uphill. Your knees cry out and your brain tricks your eyes into thinking you are almost to level ground. And maybe you are, for a minute, before the downhill starts again.
All day long, the job of the pilgrim is to pay attention.
Pay attention to the blazes marking the way. Sometimes it was an official concrete sign with a shell plaque and the number of kilometers to Santiago. More often it was a yellow arrow or shell spray painted on the side of a wall or building or tree or simply written on the ground. I never knew where the next sign will be—my eyes constantly scanning, high and low, side to side, alert and aware that missing a sign could mean unnecessary additional kilometers of walking.
A vigilant pilgrim also pays attention to her feet.
I watched strapping, burly pilgrims, completely immobilized by blister-ridden feet, forced to cut their camino short. I also saw seemingly frail, tottering pilgrims carry on steadily thanks to their ability to both prepare and pay attention.
Watching the pain Marie-Ange endured while caring for her blisters in Pamplona made me very mindful of my feet from the beginning. I watched and listened to other pilgrims who gave me the advice that allowed me to walk 729 kilometers without blisters. I prepared and paid attention.
Prepare
One of the most hotly debated discussions in any camino forum is footwear.
I joined several camino forums on Facebook before taking the plunge to book my plane tickets and actually go. In these forums, former pilgrims and hopeful pilgrim's discuss all the mundane details that every pilgrim could ever know before they start walking.
"Lets talk shoes," one pilgrim writes.
"Lets talk blisters," another laments.
"Hiking boots, or hiking shoes? Favorite brands?"
"Has anyone walked the camino in xyz brand shoes?"
"Thinking about what shoes to buy for our camino. Does anyone have recommendations?"
All the information out there could leave some pilgrims with decision fatigue. I almost wonder if it would be better to just fly to Spain, start walking, and discover what you need as you go, but most people need control far too much to actually do that.
I found my shoes at an REI garage sale, a biannual sale where the shopping experience spills outdoors onto the parking lot. Miscellaneous camping equipment is strewn about the lawn. Worn socks and shoes in various sizes and stages of disrepair cover folding tables lined up in parking spots.
It was in this haystack I found my needle. They were blue La Sportiva hiking shoes: very light weight, but solid tread on the bottom, waterproof—but still breathable somehow. They were technically "used," because they had been returned to REI, but they didn't appear to have actually been walked in or worn outdoors by their temporary owner.
In addition to my hiking shoes, I purchased and brought Keen Whisper sandals. I thought, if nothing else, they will make great shower shoes to avoid athlete's foot when washing up in a shower that sees potentially hundreds of soles daily.
Pay Attention
But merely preparing with the right gear doesn't alone prevent blisters. I could outfit myself with the best equipment and still arrive in Santiago with blister-ridden feet, or worse, not arrive in Santiago at all due to the unbearable pain of wounded feet. Even with the best gear, I had to train myself to pay attention.
The moment something didn't feel right, I stopped.
My shoe combination proved effective. On days when the path was rocky or steep, my La Sportivas supported my ankles and prevented injury. On days when the path was fairly flat and stretched on and on, my Whispers kept my feet cushioned and cool.
After lunch I would go outside and do my mid-day foot ritual, unphased by the strangeness of tending to one's feet in public. Many niceties and unspoken rules go out the window on the camino. We know our priorities, and feet are possibly at the top of most every pilgrim.
I'd slide off my morning socks and let my feet dry in the hot air, not worried about the other pilgrims walking by or taking a break at a nearby cafe. There is a communal care for feet along the camino. If I had to stop while walking with my mom or a friend, they understood. They were also enduring their own feet reality and had either learned from others or learned the hard way that foot pain doesn't just go away.
This toe is feeling strange. Is it sweaty? Is it rubbing on the shoe? I changed socks, used a diaper pin hang dry the sweaty pair on the outside of the pack, and rubbed foot cream into the vehicles that carried me across a country. My fresh (how fresh is anything you hand wash for a month?) socks would cover my feet and I'd choose which shoes to wear for the afternoon.
What is the terrain today? If heat was the problem and it wasn't too rocky, the sandals were my best bet. If it was hilly or the path had a lot of rocks, hiking boots best protected my ankles from rolling. If there was any rubbing going on, changing shoes was usually the best bet.
Whenever anything felt off, I stopped, assessed, and made adjustments until things were moving smoothly again.
There wasn't a simple solution to every situation. Changing socks didn't help at all if the shoes weren't tied tight enough. Changing shoes didn't help if my socks were wet with sweat. I had to pay attention to what my feet needed that day in that situation.
As humans, we are taught to dissociate from our bodies. We don't listen when things feel not-quite-right. We numb every hint of pain with ibuprofen or Netflix or alcohol.
After walking the camino, I became pregnant with our first child. With the camino fresh in my mind, I paid watchful attention to every creak, twinge, and ache in my body. I distinctly remember the first flutters of my son in my belly, as I was teaching fractions to fifth graders.
When it was time to labor and give birth, I imagined that experience as yet another pilgrimage. Breathe in. Each moment of pain is actually my baby inching a little closer to being in my arms. Paying attention to the pain of labor didn't make the pain worse. I noticed it. I observed what my body was doing. I embodied it. I breathed and moaned and moved in ways to connect with the pain. Something wasn't happening to me, my body was doing this on its own—and it was good!
Maybe there is some uncomfortable rubbing happening in an area of your life. What could paying attention in that situation do for you? Is there friction in your marriage? Pay attention. Don't ignore it, lest the wounds get infected. Is there tension in your workplace? Pay attention. There may be an easy change that will make things more peaceful.
Pay attention. Offer gratitude for what is working. Be ready to give yourself what you need when you notice a deficit. Don't assume what worked yesterday will work today.
Pay attention to the path in front of you. Maybe you are moseying through life without any direction. Do you ever feel like you are the only one who doesn't know what they are doing with their life? We sometimes fall asleep to our own lives, running on anthropoid autopilot. We feel as though life is happening to us, rather than life being something that we are creating alongside of others and the divine. What if we paid more attention to where we are going on our journey? Just like on the camino, the signs are always there, we just have to look for them.